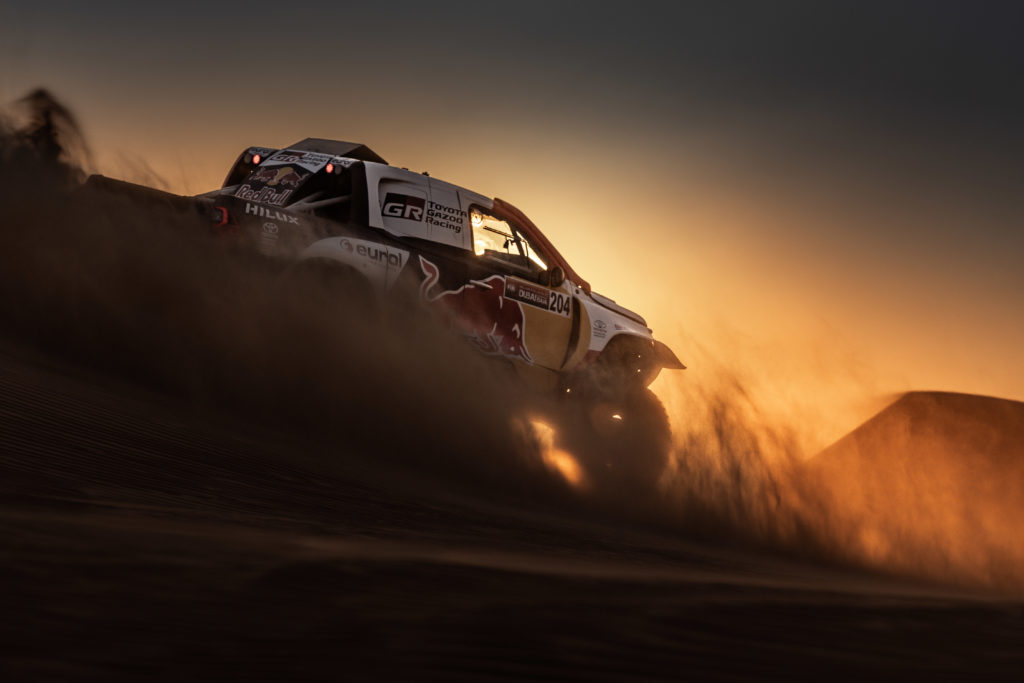 Toyota Promote Seth Quintero On Eve Of Event
Off Road Rallying Season Heads To A Conclusion On The Dunes Of Dubai
Dubai, UAE, 09th November 2023: As the teams complete their final preparations ahead of the Dubai International Baja tomorrow (Friday 10th NOV), Toyota have announced that emerging US star Seth Quintero has won promotion to one of the most prized seats in off-road rallying.
Toyota have chosen this weekend's final round of the FIA Baja World Cup to present Quintero with the much coveted 3.5 litre V6 twin turbo Toyota Hilux recently vacated by FIA Baja World Cup champion elect Nasser Al-Attiyah.
The latter will line up this weekend in his new Prodrive Hunter where his biggest opposition is likely to come from his former team including the 21-year-old Californian Red Bull Off-Road Junior Team driver Quintero.
The San Diego native has earned promotion following his victory in this year's World Rally-Raid Championship (W2RC) T3 title alongside co-driver Dennis Zenz.
Quintero will be closely watched in Dubai as he adapts to the Toyota GR DKR Hilux T1+ car while Nasser, too, works to become familiar with his new machine.
The final round of both the FIA and FIM World Cups in Baja rallying has attracted the top drivers and riders for three days of intense off-road action beginning with the exciting new night time prologue stage at Dubai Festival City next Friday.
Once again the event has garnered vital support from the Dubai Government and its entities which helps Emirates Motorsport Organization (EMSO) to deliver one of the most eagerly anticipated international motorsports events of the year in the UAE.
This year, the Dubai International Baja is proud to support the initiative of Dubai Fitness Challenge.
An initiative of His Highness Sheikh Hamdan bin Mohammed bin Rashid Al Maktoum, Crown Prince of Dubai and Chairman of the Executive Council of Dubai – the challenge runs from 28th October until 26th November and aims to inspire everyone to create a fitness-focused mindset and seek healthy, active lifestyles.
Khalid Ben Sulayem, President of the Emirates Motorsport Organization (EMSO):
"The continuing long-time support of the Government of Dubai and its entities makes it possible for us to deliver top class rallying of world renown.
"We are proud to be able to present the region in all its glory. The epic scenery, the challenging topography and the technological expertise of Dubai all combine to present a wonderful sporting event showcasing the best of UAE and Dubai to a local, regional and international audience.
Seth Quintero: I'm addicted to progression, obsessed by it, and this step up to T1+ is all I've been thinking about for a while. I always had raw speed over short stints, but now I've learned to hang on for two weeks at a time."
In cooperation with Automotive partner Al Futtaim Toyota, Dubai Festival City, Energy Partner ENOC, and Al Ain Water. The rally is also supported by the Dubai Government and its entities Dubai Police, RTA, Dubai Sports Council, Dubai Municipality, Dubai Customs, Dubai Civil Defense, Wild Affairs Region Department, Dubai Media and Dubai Sport TV.
The seventh edition of this desert classic event kicks off in Festival City in Dubai on Friday, November 10th, with the evening prologue stage offering spectators a chance to see all of the competitors in action ahead of Saturday and Sunday's cross-country legs.
One more VERY IMPORTANT thing!
We've been getting lots of enquiries through social media & phone from motorsports fans asking where they can see some of the event.
Short Answer: The event is free to attend, but going to the desert may be challenging.
The best chance to see these world champions and their amazing machines is simply come to see the Ceremonial Start in Festival City.
There will be some very high-profile VIPs flagging off the race cars, bikes, quads and buggies, which then go straight to race the 2km Prologue (Timed Super Special Stage), just a few meters away.
All within walking distance.
This is a spectacular opportunity for motorsports lovers to see these beasts in action, against the amazing backdrop of Dubai's skyline.
Important: The Start Ceremony starts at 18:20hs, so be onsite a bit earlier to see parade from Dubai Police and grab a good spot to watch the event.