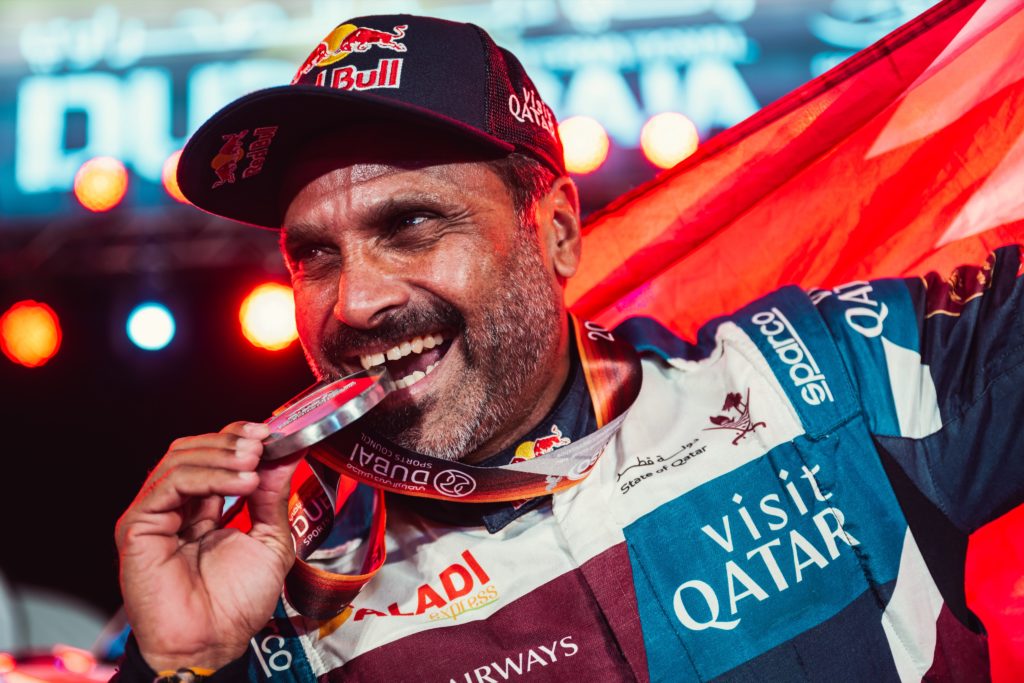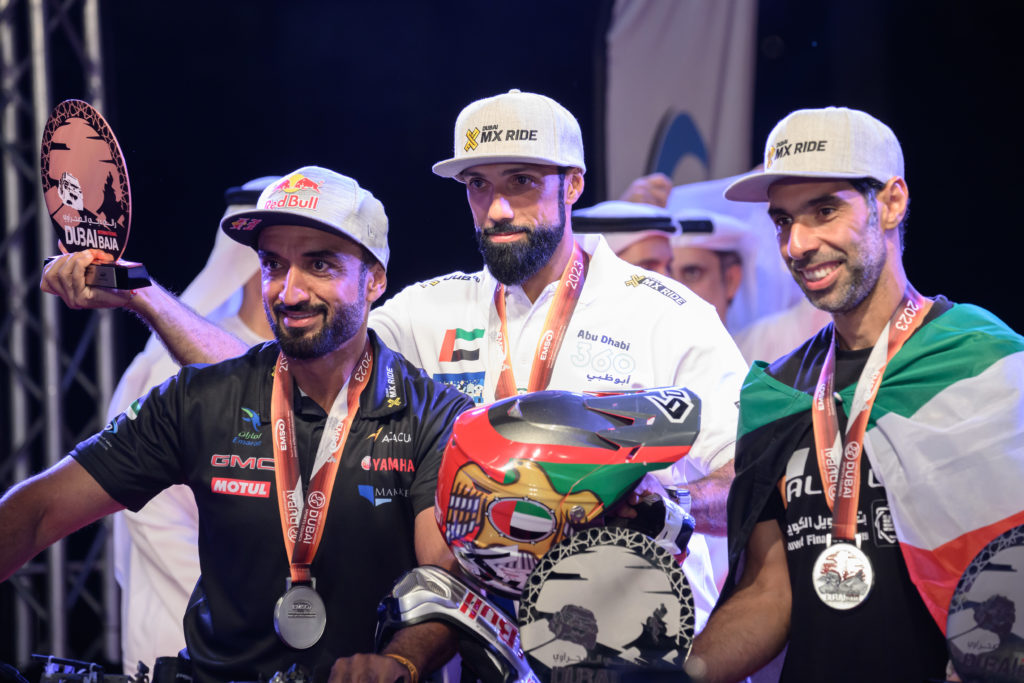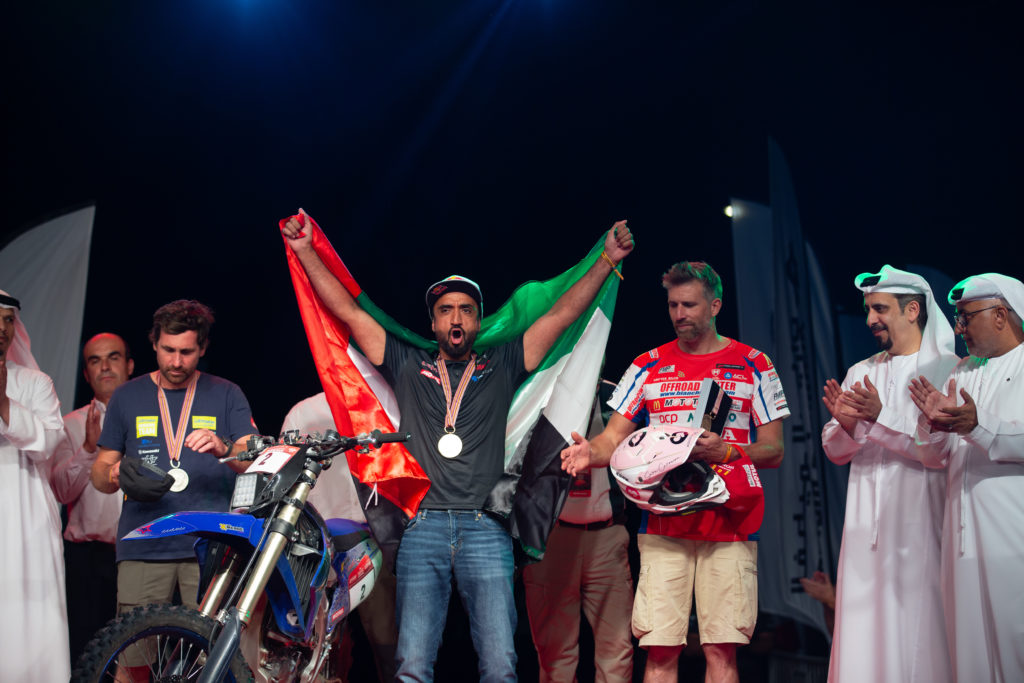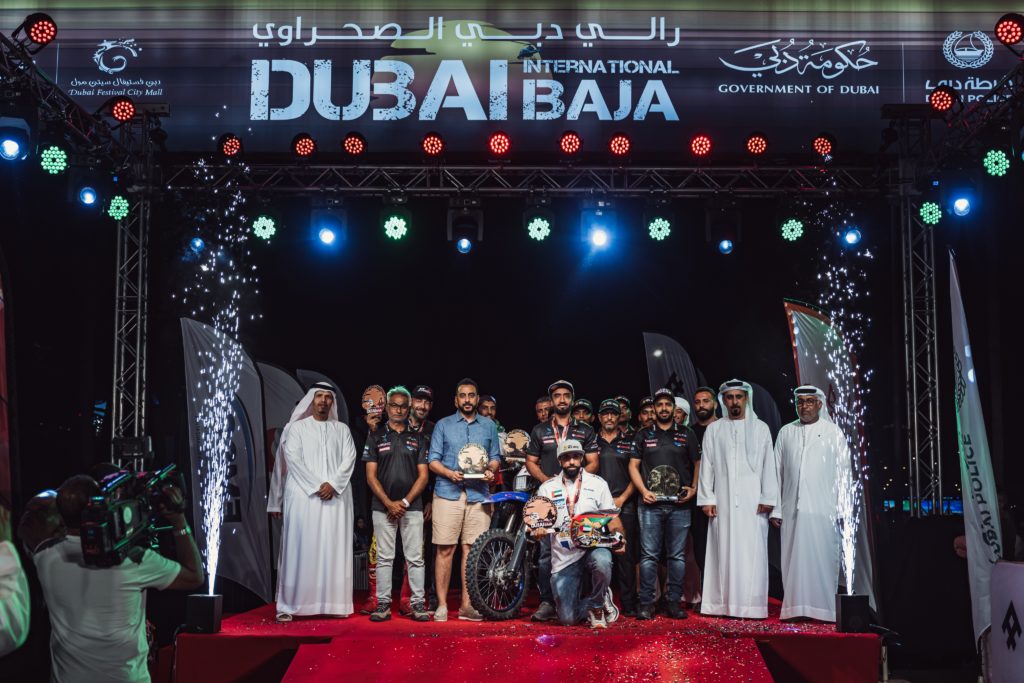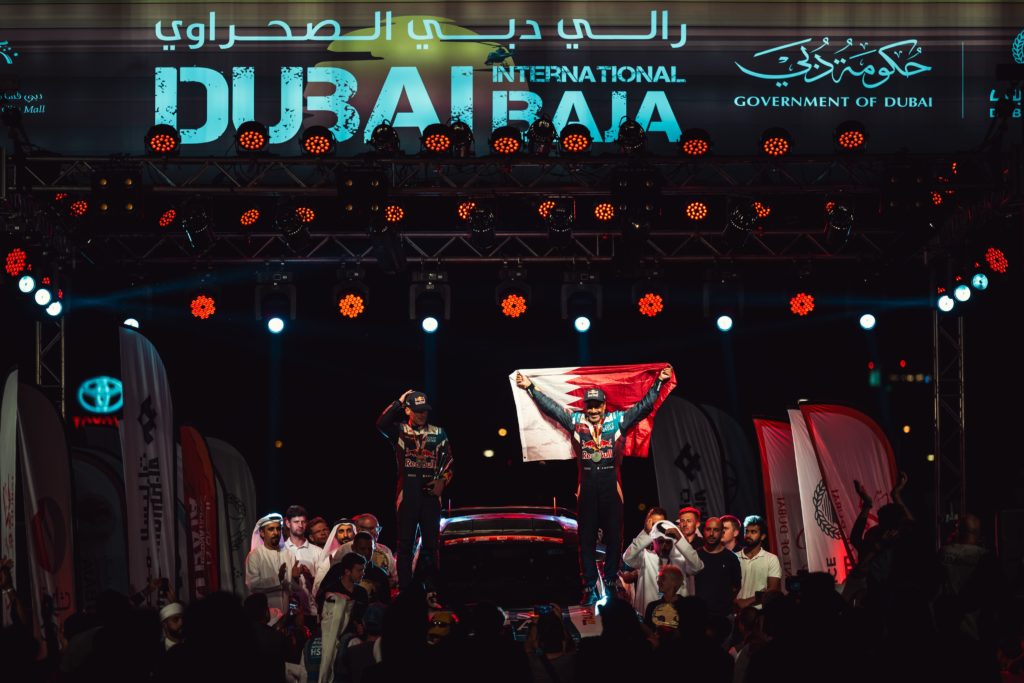 · Late Title Push Pays Dividends For UAE's Al Balooshi
· Nasser Al Attiya Series Dominance Confirmed
· FIA Middle East Cup Titles Also Confirmed
Dubai, UAE, 14th November 2023:
The sands are settling after a hugely successful seventh edition of the Dubai International Baja with many crews celebrating season as well as event success.
With thirty-four years of event history, including the days racing as Dubai International Rally and the seven editions of the new era as Dubai International Baja, for the organisers too, the successful delivery of an event which passed off without any significant injury or incident of note have further elevated the status of Dubai International Baja in world motorsport.
The remarkable victory of Dubai's own Mohammed Al Balooshi on his Yamaha MX450 thrilled the fans and dominated the post event conversation as the local rider also scooped the 2023 FIM Bajas World Cup by the narrow margin of two points.
It's a testament to the value of the event as a development vehicle for riders and drivers who have used it as an important international outlet that Al Balooshi's victory on Sunday secured a second career FIM World Cup title, making him the first Arab rider to achieve that distinction.
Further reflecting the value of Dubai International Baja to local motorsport, there was further success for UAE in the Quads category as local rider Abdulaziz Ahli (Yamaha) won both special stages on his way to a famous victory in the Al-Futtaim Group and ENOC-supported event.
Al Balooshi's victories on both Saturday's 167km Al-Futtaim Toyota Special Stage and Sunday's 169km ENOC special stage put the pressure on series leader Kevin Giroud but the Frenchman was restricted to seventh on both special stages on his way to fifth overall.
There was joy unbound back at the service park at the event HQ in Dubai Festival City as Al Balooshi's second career event and title success were eventually confirmed and he could join the other riders and drivers celebrating the end of the off-road season.
15th overall was enough for Canadian Jonathan Finn (Honda) to secure the Junior title while Spain's Esther Merino Garcia (Husqvarna) won the Women's category and Portugal's Pedro Bianchi (Honda) secured the Veteran's crown.
In the Quads, Abdulaziz Ahli (Yamaha) won both special stages to take a famous home victory. Second overall meant Frenchman Kevin Giroud (Yamaha) to take the World Cup title after nearest rival Haitham Al-Tuwaijiri (Yamaha) of Saudi Arabia was forced to retire on Saturday.
In the cars, a second career Dubai International Baja success for Nasser Al-Attiya with Mathieu Baumel came in just his second event at the wheel of a Prodrive Hunter and further extended his winning points advantage in the FIA World Cup for Cross Country Bajas having already secured the title ahead of the trip to Dubai.
Fifth overall and victory in the T3 category in Dubai also meant Brazil's Otavio Sousa Leite and co-driver João Ferreira the series title in a South Racing Can-Am Maverick X3.
Sousa Leite's father Cristiano de Sousa Batista had already wrapped up the T4 title before Dubai and he and Portuguese co-driver Fausto Moto finished second in T3.
Saudi Arabia's Dania Akeel with German co-driver Taye Perry rounded off the T3 podium, a result which confirmed third in the T3 Drivers' Championship for Akeel.
Fourth overall gave Portugal's Joao Ferreira and co-driver Filipe Palmeiro a comfortable victory in the T4 class.
As well as the FIA World Cup Bajas, the Dubai International Baja was also the final round of the FIA Middle East Cup.
Local driver Aliyyah Koloc and South African co-driver Riann Greyling in a Red-Lined Revo T1+ took maximum points in the FIA Middle East Cup for Cross-Country Bajas.
Third place in the FIA Middle East Cup in Dubai helped Saudi Arabia's Khalid Al-Feraihi to clinch the Drivers' Championship and his French co-driver Sébastien Delaunay pipped Dmytro Tsyro to the Co-drivers' title. Saudi Arabia's Ibrahim Al-Muhanna took Middle East Baja Cup T2 honours in a Nissan Patrol.
In an event notable for attrition Hamad Al-Harbi of Saudi Arabia clinched the FIA Middle East Cup's T3 title, despite both he and rival Yasir Seaidan retiring.
Fifth overall for Kuwait's Salem Al-Dhafeeri (Can-Am) kept him ahead of series rival Maha Al-Hameli (Can-Am) of Saudi Arabia and sealed the FIA Middle East Cup's T4 title.
Reflecting on another successful edition of the Dubai International Baja and the end of another great season of off-road rallying in the middle east, Khalid Ben Sulayem, President of the Emirates Motorsport Organization (EMSO) said:
"I look with pride at the way in which the event has blossomed in recent years. After all the wonderful competition and the hard work by the EMSO team and all the stakeholders we can celebrate the successful delivery of another great chapter in Dubai International Baja history.
"We can be proud of this achievement and grateful for all the wonderful support we have had from the government agencies and our commercial partners.
"Today's international Baja is a clear example of how adapting the sport to better suit a certain community or a natural type of terrain can be a benefit in so many positive ways. This transformation has allowed for the sport to grow in the region and seven editions after the first Dubai International Baja, the country now has a two-time World Cup winner.
"Seeing such a strong performance from all Emirati and GCC competitors in both FIA and FIM World Cups speaks about how important grassroots development is for a sustainable sport."
The Dubai International Baja takes place under the patronage of H.H. Sheikh Hamdan bin Mohammed bin Rashid Al Maktoum, the Crown Prince of Dubai and chairman of the Dubai Executive Council.
In cooperation with Automotive partner Al Futtaim Toyota, Dubai Festival City, Energy Partner ENOC, and Al Ain Water. The rally is also supported by the Dubai Government and its entities Dubai Police, RTA, Dubai Sports Council, Dubai Municipality, Dubai Customs, Dubai Civil Defence, Wild Affairs Region Department, Dubai Media and Dubai Sport TV.
The seventh edition of this desert classic event kicked off in Festival City in Dubai on Friday, November 10th, with the evening prologue stage offering spectators a chance to see all of the competitors in action ahead of Saturday and Sunday's cross-country legs.