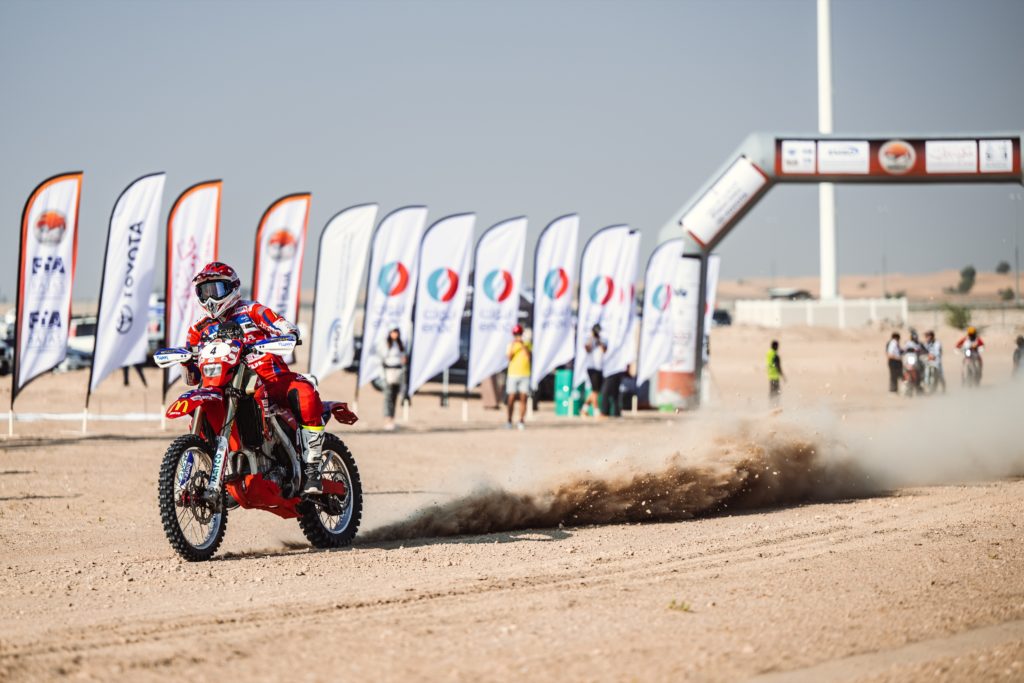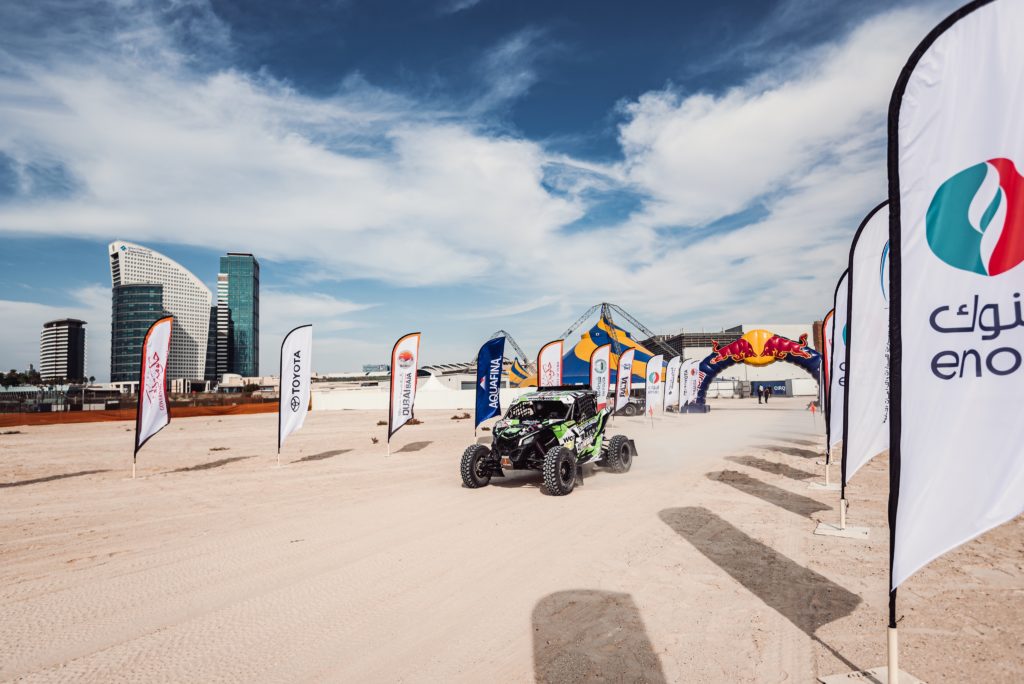 ENOC KEEPS THE WHEELS TURNING AS DUBAI INTERNATIONAL BAJA BRINGS THE CURTAIN DOWN ON 2023 SEASON
Dubai, UAE, 05th November 2023: The international off-road rallying season comes to a conclusion at the Dubai International Baja next week (November 10-12) as the world's top crews get set to do battle on the challenging dunes of Dubai.
Registration closed with the top-ranked drivers and riders in all categories entered for the seventh edition of one the Middle East's most popular annual sports events, which has captured the imagination of off-road motorsport enthusiasts across the world since its reinvention as a Baja rally in 2016.
Titles are still up for grabs in numerous categories, and with the recent cancellation of the Jordan Baja, the Dubai event becomes the championship decider for both the FIM motorcycle Bajas World Cup and most of the car classes of the FIA World Cup for Cross-Country Bajas.
While the overall car championship has already been decided in favour of Nasser Al-Attiyah, all eyes will be on the Qatari off-road superstar as he comes to terms with his new Prodrive Hunter following a surprising late-season move.
Ranged against him is a quality field including Toyota Overdrive drivers Yazeed Al Rajhi – who won the FIA overall World Title in 2021 and 2022 -and Argentina's Juan Cruz Yacopini who finished second to champion elect Al-Attiyah at the opening round in Saudi Arabia earlier this year.
For all the competitors, merely making it to the finish line is a challenge, one that is eased considerably thanks to the extension of the partnership between the Emirates Motorsport Organization (EMSO) and official energy partner, the Emirates National Oil Company (ENOC).
For a second year the Group will again provide the Dubai Baja participants, organiser vehicles and Search and Rescue helicopters with different types of high-performance fuel.
Equally importantly, ENOC Group, a Dubai Government oil and gas giant with presence in 60 different markets globally, also provides key logistical services by supplying fuel to remote refuelling stops deep into the desert, where the high-technology mobile distributors ENOC Link keep crews in action across the epic deserts of Dubai.
H.E. Saif Humaid Al Falasi, Group CEO ENOC said: "ENOC Group and the Dubai International Baja share fundamental values that make part of the core of our company's ethos. For over three decades, ENOC has accompanied the development of Dubai and provided innovative energy solutions, delivering sustainable value and industry-leading performance.
It is a source of pride for us to once again support this thrilling event, which is part of Dubai's and the UAE's sports heritage. Our country's landscape offers a fantastic arena for world-class international competition and makes this a wonderful opportunity for us to display our expertise in supplying quality fuel to ensure the vehicles' engines can meet those challenges."
ENOC Group owns and operates assets in the fields of exploration and production, supply and operations, terminals, fuel retail, aviation fuel and petroleum products for commercial and industrial use.
Khalid Ben Sulayem, President of the Emirates Motorsport Organization (EMSO): "We are delighted to continue the collaboration with ENOC. ENOC Group and the more than 30 subsidiaries operating under their umbrella are globally recognised as a synonym of excellence, development and performance. Strengthening bonds between our organisations can only enhance the experience of everyone involved in the Dubai International Baja. At an event which asks so much of competitors and machinery, competitors and teams are the obvious beneficiaries, but it is we as organizers that can really understand and benefit from the extent of the support received from partnering with ENOC."
Among the motorbikes, local hero Mohammed Al Balooshi has slipped to second in the FIM Bajas World Cup standings ahead of the final round, having led the series since the start of the season.
The Emirati battled with several issues during the previous round in Portugal, which set him back to 6th overall on the race and allowed local rider David Megre better leverage of his home ride and a climb
into a narrow lead. Al Balooshi now goes into his own home event chasing a repeat of his victory on the 2018 Dubai Baja, a win which helped him to secure that year's overall series world title.
Al Balooshi (Yamaha YZF450) sits between Portuguese riders Megre (Kawasaki KX450 X) and Pedro Bianchi Prata (Honda CRF450 RX) in the points standings, with all three holding realistic chances of title glory in what is building up to be a winner-takes-all grandstand finish to the season. Find out more about the remaining World Titles that will be up for grabs next week in Dubai on www.dubaiinternationalbaja.com .
The Dubai International Baja takes place under the patronage of H.H. Sheikh Hamdan bin Mohammed bin Rashid Al Maktoum, the Crown Prince of Dubai and chairman of the Dubai Executive Council. In cooperation with Automotive partner Al Futtaim Toyota, Dubai Festival City, Energy Partner ENOC, and Al Ain Water. The rally is also supported by the Dubai Government and its entities Dubai Police, RTA, Dubai Sports Council, Dubai Municipality, Dubai Customs, Dubai Civil Defense, Wild Affairs Region Department, Dubai Media and Dubai Sport TV.
The 7th edition of this desert classic event kicks off in Festival City in Dubai on Friday, November 10th, with the evening prologue stage offering spectators a chance to see all of the competitors in action ahead of Saturday and Sunday's cross-country legs.
–