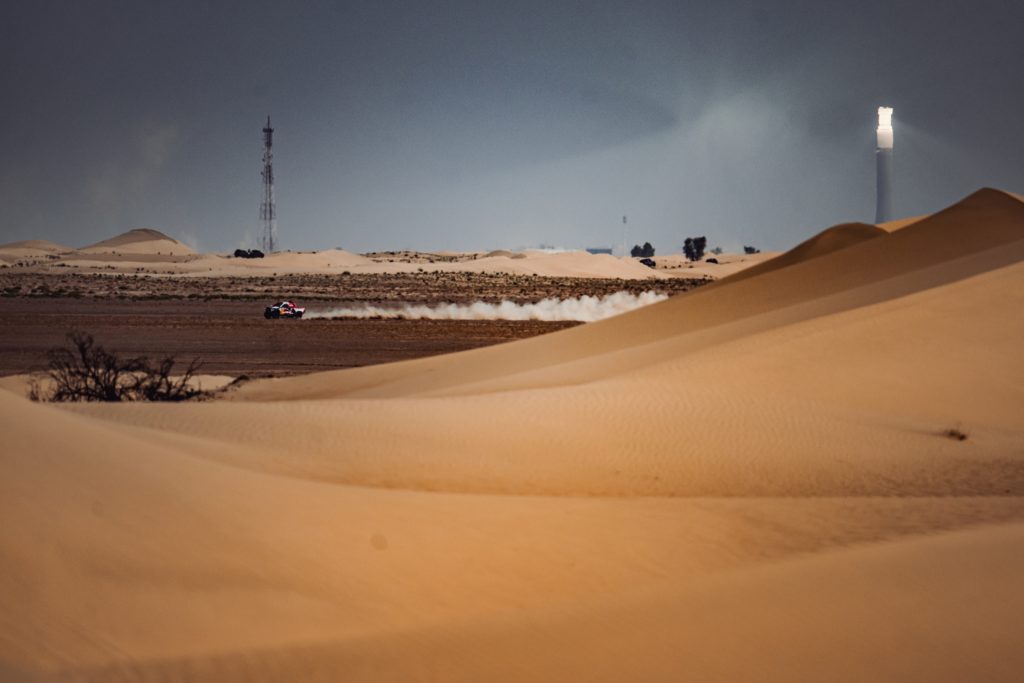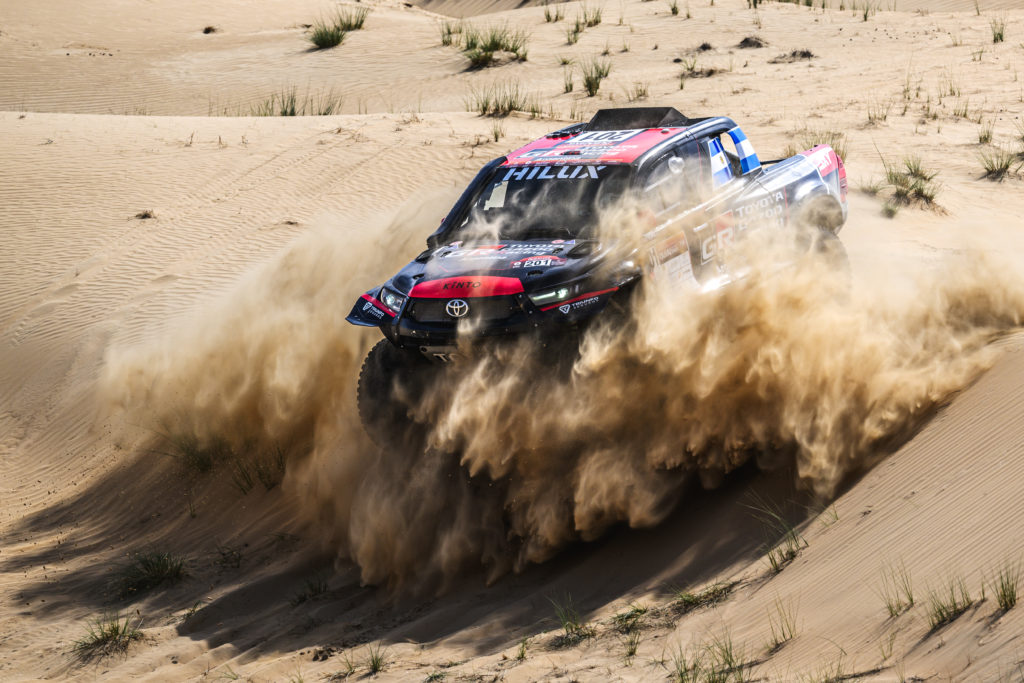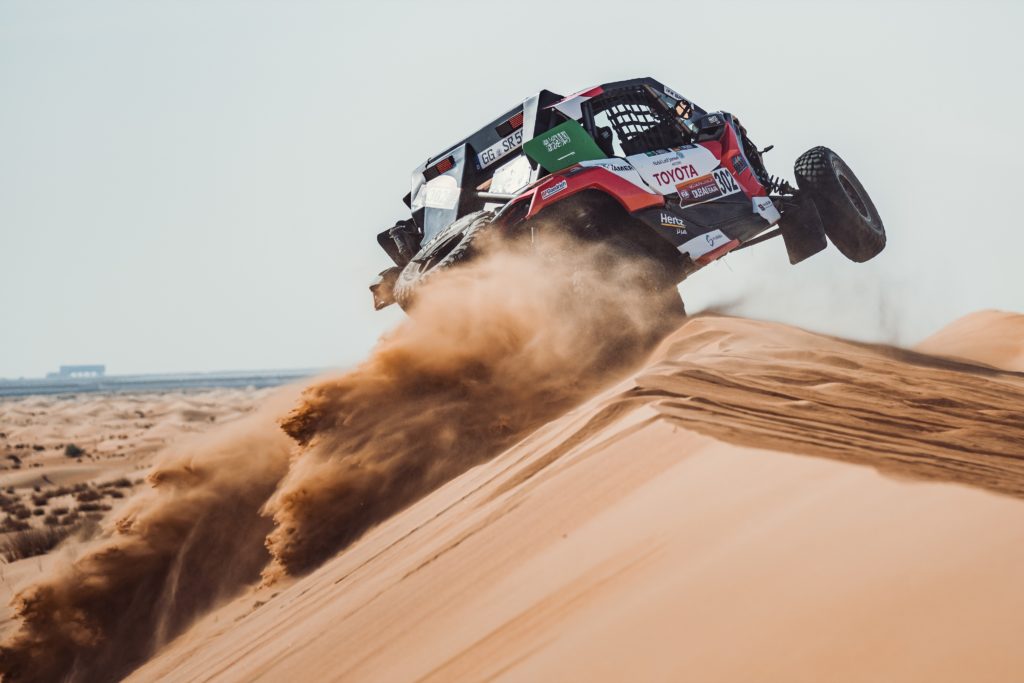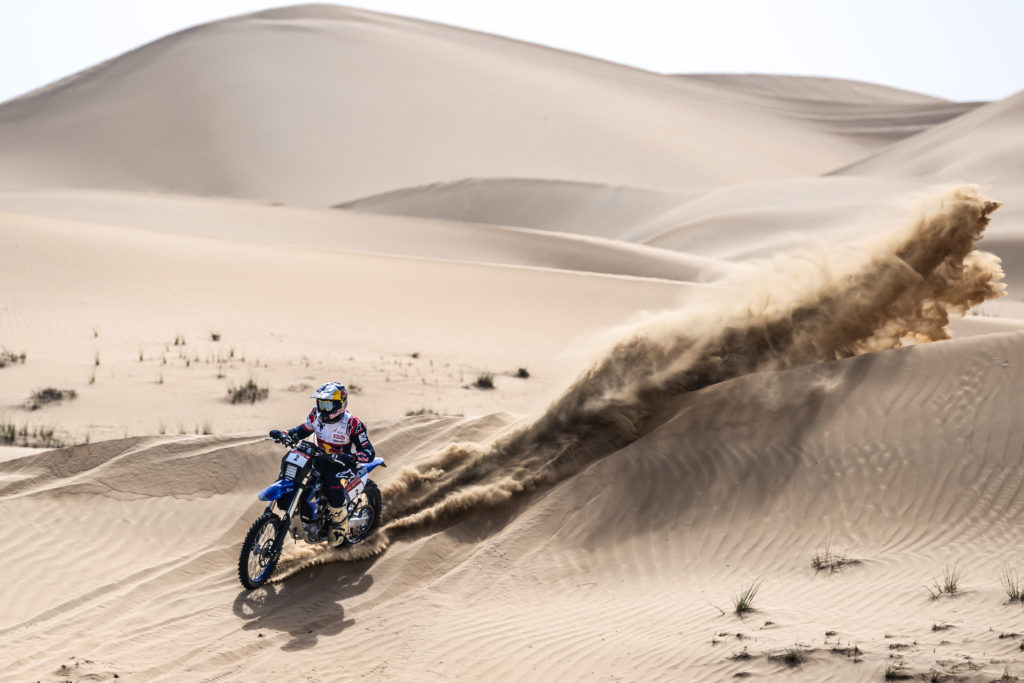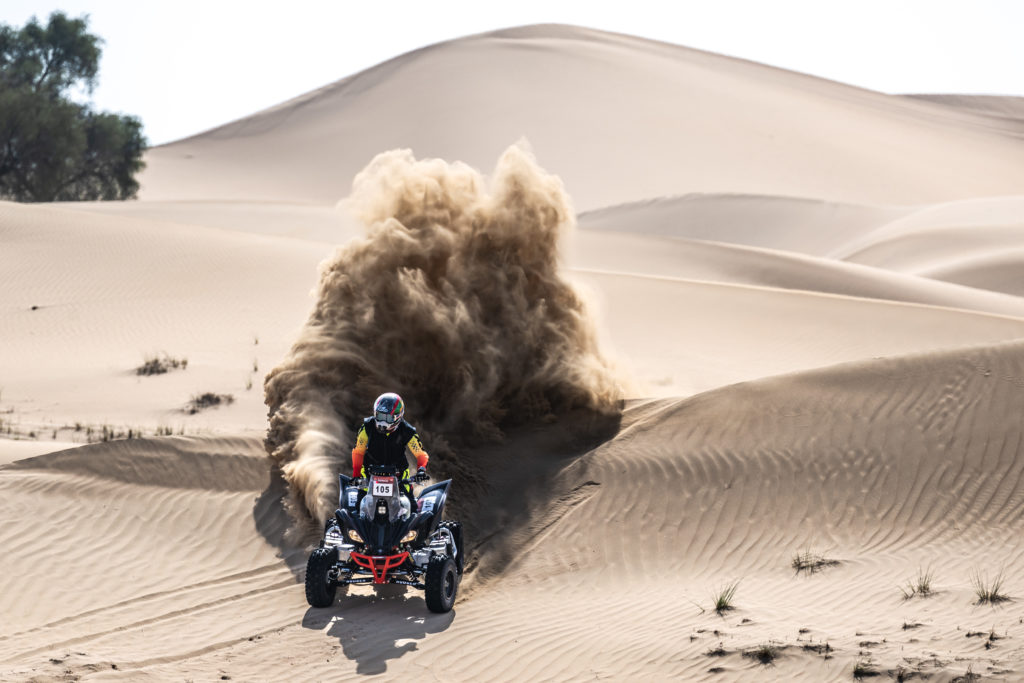 · Local hero Al Balooshi Wins Motos Leg 1
· Al Attiyah Leads Young Challenger Quintero in Cars
· Ahli on top for UAE in Quads
Dubai, UAE, 11th November 2023:
After the Friday evening prologue appetizer, the Dubai International Baja resumed on Saturday as the star-studded lineup headed to the desert for the first of two days of demanding dune rallying.
The Al Futtaim Leg 1 of the Dubai International Baja covered a total of 337km, with 166km of a very technical Special Stage to challenge the crews.
The motorcycles were first in action with Mohammed Al Balooshi giving the home fans plenty to cheer about as he blasted through the day to win the stage and take the overall lead into day three while among the cars Nasser Al-Attiya fended off the challenge of up-and-coming star Seth Quintero.
Mohammed Al Balooshi rode his Yamaha YZF450 to a 1m50.4s advantage over Kuwaiti Abdullah Alshatti with Sultan Balooshi making it two local riders in the top three with third fastest time.
Series leader David Megre of Portugal had a challenging day, finishing seventh and will start the final day of FIM Bajas World Cup more than eight minutes down on nearest championship challenger Al Balooshi.
Al Balooshi will be first into action on Sunday with the added burden of cutting a path through the soft desert sand for others to follow.
Speaking after a very satisfying day Mohammed Al Balooshi said:
"We can't be more happy by finishing first today. One more day to go. Namoos (victory)!"
Making it a great day for UAE riders, Abdul Aziz Ahli won Leg 1 among the Quads, more than 11 minutes ahead of series leader Kevin Giroud with Haitham Altuwaijiri – locked on points with Giroud starting the event – more than 13 minutes behind his title rival in third.
The car battle has gone to form so far with 18-times Middle East Rally Champion Nasser Al-Attiya finishing the day 58.8 seconds ahead of his replacement in the Toyota Overdrive team, Seth Quintero.
Third, some five and half minutes in arrears, was Quintero's team mate, 2021 Dubai International Baja winner Yazeed Al Rajhi.
FIA World Cup Baja champion elect Al-Attiya was understandably satisfied with his first day of action in the desert but mindful that his advantage over Quintero remains a narrow one.
Nasser Al-Attiya:
"It was a good day for us and we are so happy to have a good lead form everybody," he said.
"We've learned a lot about the new Prodrive Hunter car. It's a good day and we're looking forward to tomorrow."
Sunday's final day of action, Leg 2, covers 337km with 169km of timed special stages before the competitors return to Dubai Festival City for the victory ceremony.
Competitors in Dubai International Baja are supported by a skilled and well-resourced medical service under the management of Dr. Sean Petherbridge, President of the FIA medical commission and CMO Dubai International Baja.
Dr. Sean Petherbridge:
"The Dubai International Baja medical service consists of specialist medical staff embedded with the sweep teams who also work at the W2RC and F1 world championship events, supported by ambulances from Response Plus Medical and a dedicated medical helicopter from the Search and Rescue service. As always, there is a high quality medical service at this event."
With temperatures in excess of 33 degrees celsius, the weather conditions play a considerable role in the arduous nature of the event.
Sustaining the competitors, officials, marshals and the media through the sweltering desert conditions are plentiful supplies of Al Ain Water, the official hydration partner of Dubai International Baja.
Speaking after the Al-Futtaim Toyota Special Stage, Jacques Brent, Managing Director Managing Director Toyota & Lexus said:
"It's really important for Al Futtain Toyota to be involved in this prestigious event and we thank EMSO for their continued support. We're very proud to be a part of this Baja. and obviously to reinforce the overall message around Toyota and motorsport and all that we do for the community."
Khalid Ben Sulayem, President of the Emirates Motorsport Organization (EMSO):
"Today was a great stage and we're happy we could deliver a safe day of rallying which benefited from the important support of all our stakeholders including Al-Futtaim Toyota and the Dubai Police who we thank for their vital help with the logistics and smooth running of the event.
The Dubai International Baja takes place under the patronage of H.H. Sheikh Hamdan bin Mohammed bin Rashid Al Maktoum, the Crown Prince of Dubai and chairman of the Dubai Executive Council.
In cooperation with Automotive partner Al Futtaim Toyota, Dubai Festival City, Energy Partner ENOC, and Al Ain Water. The rally is also supported by the Dubai Government and its entities Dubai Police, RTA, Dubai Sports Council, Dubai Municipality, Dubai Customs, Dubai Civil Defense, Wild Affairs Region Department, Dubai Media and Dubai Sport TV.
The seventh edition of this desert classic event kicked off in Festival City in Dubai on Friday, November 10th, with the evening prologue stage offering spectators a chance to see all of the competitors in action ahead of Saturday and Sunday's cross-country legs.
LEG 1 – Special Stage Al-Futtaim Toyota
RESULTS
CARS T1
1. Nasser AL-ATTIYA – Mathieu BAUMEL (Prodrive Hunter) 2h45m10.6s
2. Seth QUINTERO – Deniz ZENZ (Toyota Hilux) 2h46m09.4s
3. Yazeed AL RAJHI – Timo GOTTSCHALK (Toyota Hilux) 2h50m40.8s
CARS T3
1. Otavio SOUSA LEITE – Joao FERREIRA (Can Am Maverick) 3h05m27.3s
2. Bradley SALAZAR – Marco GUERRON (Can Am Maverick) 3h10m30.8s
3. Cristiano DE SOUSA BATISTA– Fausto DE ALMEIDA DE MOTA (Can Am Maverick) 3h13m05.1s
CARS T4
1. Joao FERREIRA – Felipe PALMEIRO (Can Am Maverick) 2h55m11.8s
2. Amerigo VENTURA MONTECAMOZZO – Mirko BRUN (Yamaha YXZ1000R) 3h20m04.1s
3. Stefano MARRINI – Silvio VALENTINI (Can Am Maverick) 3h34m03.5s
BIKE
1. Mohammed AL BALOOSHI (Yamaha YZF 450cc) 2h56m05.1s
2. Abdullah ALSHATTI (Kawasaki KZ 450cc) 2h57m55.5s
3. Sultan BALOOSHI (Yamaha YZF 450cc) 2h59m30.8s
QUAD
1. Abdulaziz AHLI (Yamaha YFZ 450cc) 3h20m51.2s
2. Kevin GIROUD (Yamaha Raptor 700cc) 3h32m04.4s
3. Haytham ALTUWAIJIRI (Yamaha Raptor 700cc) 21h17m06.4